Sonambiente 2006 Akademie der Künste, Berlin
Maßnahmen zur Instandhaltung des Klangkörpers Fan - Part I
Die Schlafröhre (Sleep Capsule)
This prototype links the aesthetic of designer Joe Colombo's living module with the Japanese sleep capsule, an established component of that country's sleep culture. Japan's capsule hotels offer these compartments, whose luxuriously appointed interiors leave nothing to be desired, by the hour or overnight. And office buildings have entire floors set aside for sleep capsules where employees can take a break.
SleepCapsule.de will produce your unique living module, bringing a monumental designer object to your private loft. Companies that want to present an object of prestige in their buildings' lobbies and/or set up quiet areas for their own employees also are potential SleepCapsule.de clients.
SleepCapsule.de offers a wide range of technical built-ins.
Customers can individually select the interior features as they are:
– air conditioning
– interior lighting with dimmer
– solarium lighting
– 5.1 surround sound system
– TV, DVD and computer monitor on folding screen
– connections for 250 volt, Internet, cable and satellite
– audiovisual meditation programme
– kinetic massage device
– minibar
– library capacity
– two-way intercom
– and many more.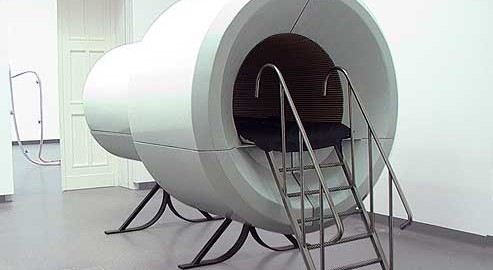 1/17 Sleep Capsule