Artist-In-Residence Quartier 21 MuseumsQuartier Wien
Ars Multilingua, AIR - time to breathe für Tonspur 24
zwei 8-Kanal Kompositionen für einen Durchgang zum des MuseumsQuartier
1) Ars Multilingua
International radio football reports as a linguistic composition for TONSPUR 24.
Football coverage for radio is spontaneous audio drama where pragmatic information and stirring reporting become an independent aesthetic product. The reporters' voices are martial and lyrical, forming an independent speech organism that reflects the mindset of the appropriate groups of supporters. The installation combines radio reporting to yield a poetic amalgamation where the soundsense (to use a term coined by James Joyce) makes the music.
2) AIR – time to breathe
With this epilogue to the turbulence of the UEFA Cup 2008 Tilman Küntzel alludes to the architecture of the complex, which was originally built as the imperial stables. The selection for the composition »AIR« from the Orchestral Suite No. 3 in D major (BWV 1068) is conceived as an homage to the quartier21 AiR grant programme in the Museumsquartier Wien. It is dedicated to the organiser Elisabeth Hajek, who continues to manage the programme although continually out of breath.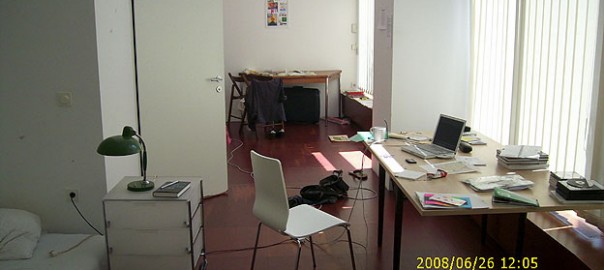 my home @ Altelier No 3, MuseumsQuaritier / Quartier 21